Most green-thumbs know that maintaining a garden in Texas can be trickier than other places in the United States due to the state's long and sunny summers. Don't retire your garden shears just yet, for Texas has a variety of fantastic flowers, shrubs, and grasses that thrive in the constant sunlight! From year-round blooming flowers to durable grasses that will flourish around your home's outdoor space, there are plenty of low-maintenance plants in Texas that you can choose from.
Whether you're an experienced gardener or a new homeowner wanting to elevate your landscaping, you'll want to check out our list of beautiful, low-effort plants that are easy to grow in your Texas garden. Get inspired and get planting!
Hibiscus / Hibiscus rosa-sinensis
Preferred sun exposure: Full sun with evening shade
Best season to plant: Anytime
Size/Height: Varies based on type, ranges from 2-10 feet.
Hibiscus plants come in many varieties and colors, so you can really get creative in how you want to landscape your home. This fantastic plant blooms throughout the year, showing off its stunning flowers throughout the four seasons. Hibiscus plants are very versatile and can be planted in spacious gardens, small window planters, or hanging pots. These plants are known to attract butterflies, bees, and hummingbirds, which is great for pollenating the rest of your blooming garden.
Brazilian Red Hots / Alternanthera dentata 
Preferred sun exposure: Partial shade
Best season to plant: Spring
Size/Height: 24-36 inches tall
This lovely perennial comes in both red and purple and grows quite quickly. It needs only moderate watering throughout the year. If planted in the early spring, it can last strongly throughout the hot Texas seasons. With direct sunlight during the long summer days, the bright red colors of this plant will really come out! It's a perfect addition to any Texas garden that needs an extra pinch of red or purple.
White Stream Lobularia / Lobularia
Preferred sun exposure: Full sun
Best season to plant: Early Spring
Size/Height: 4-6 inches
This heat-loving plant blooms its lovely scented flowers all summer long, making a great plant for those who love seeing bright white flowers during the time in Texas when everything seems to be withering in the dry heat. The Texas Superstar suggests that it's best to wait to plant White Stream Lobularia until after the last deep freeze of the winter season, but still very early in spring. This plant needs moderate watering but is a bit tolerant to the common Texas droughts.
Butterfly Deep Pink Pentas / Pentas lanceolata
Preferred sun exposure: Full sun
Best season to plant: Spring
Size/Height: 24 inches tall
This plant attracts butterflies and hummingbirds, bringing the extra magic of having wildlife exploring your sweet little garden. Though Butterfly Deep Pink Pentas prefer full sun exposure, it's okay to have them in a partly shaded area. The tropical annual blooms are amazing bright pink flowers from spring to late fall. You'll get to admire its beauty for many months of the year! These plants are heat, soil, and pest tolerant, making them very easy to manage in your garden.
Gold Star Esperanza / Tacoma stans
Preferred sun exposure: Full sun
Best season to plant: Spring
Size/Height: 4 feet tall
You can enjoy these stunning yellow flowers from the late springtime until fall. They love the heat and thrive in the hot Texas weather. They are perfect for adding a pop of yellow in your gorgeous garden. Small wildlife love the bright flowers, so you're sure to spot a bird or butterfly enjoying the blooms. While little critters enjoy the plants, Texas deer tend to steer clear from Gold Star Esperanzas, which could potentially protect the rest of your garden from deer damage.
Mexican Bush Sage / Salvia leucantha
Preferred sun exposure: Full sun
Best season to plant: Spring to Summer
Size/Height: 3-4 feet
Thinking your city will experience a drought this summer? Plant Mexican Bush Sage! These fantastic Mexico-native perennials are highly drought tolerant and prefer to grow under the full sun. They need good drainage in their soil with moderate watering, but besides that, they'll be ready to look gorgeous all summer long. Their long, purple flowers bring a whole new look to your garden during the warm months, while they still look nice, green, and fluffy in the winter.
Lindheimer's Muhly Grass
Preferred sun exposure: Full sun; Okay with light shade
Best season to plant: Summer
Size/Height: 3-4 feet tall
Tall grass might not have been something you thought to add to your garden, but these beautiful plants may make you want to! Lindheimer's Muhly Grass loves to grow in the full sun and doesn't spread like some other grasses. The clumps of long strands of grass are topped with wispy, white/silvery flower panicles that open up to be purple/red. They grow fairly tall and rustle peacefully in the soothing summer winds, making them great as a background or bordering plant, or for softening up a rougher landscape.
Duranta / Duranta erecta
Preferred sun exposure: Full sun; Can still bloom in shade
Best season to plant: Anytime
Size/Height: Up to 10-15 feet tall
These stunning flowers grow very rapidly and love showing off their bright flowers. They are a large shrub that can get up to 15 feet tall depending on the strain you plant. Dwarf Duranta can stay relatively short (around 3-4 feet tall). Their pretty flowers can range from blue to purple and are perfect as an accent plant in a garden. Duranta don't need to be watered too much and they will attract many bees to your garden. These are some of the prettiest and brightest low-maintenance plants in Texas.
Victoria Red Grape / Vitis species
Preferred sun exposure: Full sun
Best season to plant: Early winter
Size/Height: Varies, needs frequent pruning
Sometimes bushes and flowers aren't enough for your Texas garden. For something totally unexpected and still easy to maintain, you can try planting Victoria Red Grapes! After basking under the full sun with wide spacing between them, these grapes grow very quickly and produce clusters of over a pound in weight. They do need a bit of pruning to stay neat and healthy, but they need little fertilizing and only moderate watering. Grow a few plants in an average sized backyard or get motivated and grow a large amount of vines across a large plot of land!
Pride of Barbados / Caesalpinia pulcherrima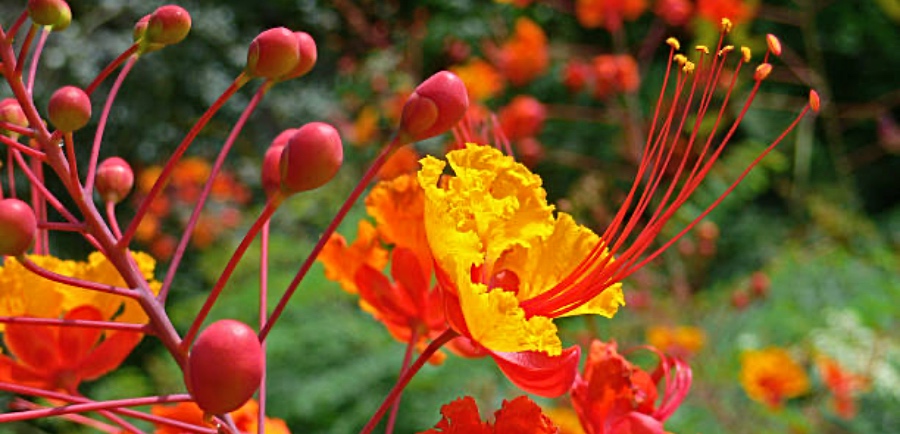 Preferred sun exposure: Full sun
Best season to plant: Spring to Early Summer
Size/Height: 8-12 feet
The Pride of Barbados plant grows beautiful and tall in direct sunlight with only little watering. Depending on the severity of the winter season, these small trees can bloom throughout the year or seasonally. They are very easy to maintain in soil with good drainage and in high heat and humidity. Pride of Barbados are a truly stunning plant that bring the most beautiful blooms in the summer season. Their fiery reds and yellows will keep away deer and attract beneficial bees and butterflies to your growing garden.